$52.35M SALE SHOWS CONTINUED INTEREST IN TRIANGLE MARKET
W.P. Carey Inc. recently paid $52.35 million for a large office building located well at 3900 Paramount Parkway in Morrisville, NC.  W.P. Carey, a net lease real estate investment trust…one of the largest in the country…acquired the significant property in Morrisville proving that the entire Triangle region continues to pace and attract investment from major players from other parts of the country.  Currently the property is home to Pharmaceutical Product Development Inc.  Headquartered in Wilmington, NC they are a player in the research healthcare provider market.
Built in 1998, at time of sale the building was had an assessed value in the $29 million dollar range.  Featuring 224,880 square feet inside, the land had a value of $2.4 million.

Legacy @ Brier Creek Sells For $34.1 Million
Legacy at Brier Creek celebrated a one year birthdate recently with a successful sale.  Heritage Properties Inc. sold the fully leased building to a company owned by insurer Zurich North America.  It appears to be a smart purchase by the Zurich owned company as there remains space to add a second building.  The land that the building sits on…nine acres…is nicely situated on the lot facing Brier Creek Parkway.
The $34.1 million dollar deal is just another example of foreign and out of state investor money coming to the Triangle.  The $28+ per foot average lease rate puts Legacy at or near the top of the market that extends down Glenwood Avenue in Raleigh.  Fully leased with excellent tenants that include yours truly along with
Keller Williams Preferred Realty
, Infosys (a tech consulting services company) and IRS and Sage Therapeutics among others.
Heritage Properties intends to reinvest the proceeds of the sale back into this market and will continue to grow it's portfolio.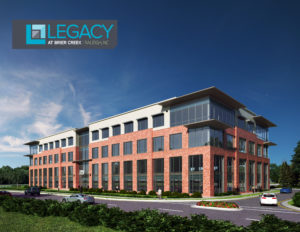 Kima Commercial, Llc. is poised to assist you with all of your real estate needs.